Sign-up to our mailing list
Dragons and Card Art and Space Whales, oh my!
A few people here and there have asked what we've been up to. The answer is: quite a lot!
We've been hard at work on Beasts of Balance Battles, the competitive expansion to Beasts of Balance. To boil it down to one sentence, in the expansion 2-3 players take on different regions of the world, and battle to make theirs the best of them all. It involves new beasts (including some special legendaries), NFC cards that have special effects in app, and a whole new world screen. It's pretty exciting stuff.
Now that we've gotten a few months into production, we thought we'd show you how it's all shaping up. So, without further ado, here are:
New Pieces:
Our new legendaries (think beasts, but waaay more powerful) are getting pretty close to their final form. We're still fine-tuning those details (especially around potential exciting 'unlock requirements'), but for now meet the latest versions of:
These are still prototypes, so the colours here aren't quite final, but we are definitely getting there. (And if you want to get your hands on them, you can preorder them here!)
Digital progress :
It's not all about the physical…it's also about the digital!
Lyall has been working hard beautifying everything Battles – which is quite a lot to beautify. There are the new digital beast designs, the in-app card effects, the look of the guardians (who act as each player's in-game character), and much much more. To try and capture that all here would be a foolish mission, so instead we'll give you some screenshots, and a little bit of context:
Snazzy cards :
It's not just on-screen work that's developed – the cards have too. Each card is different and has a cool power that can be used at any point in the game. Check out their final forms below: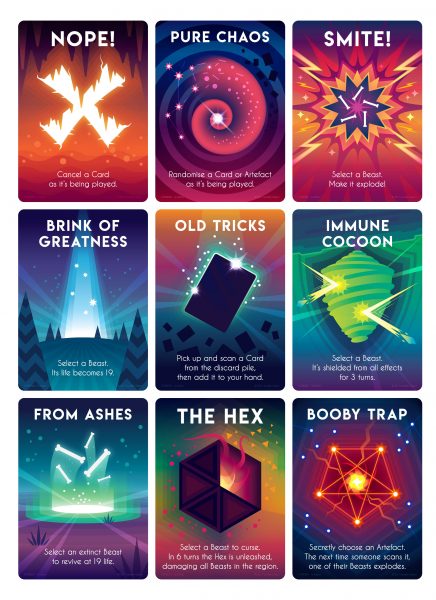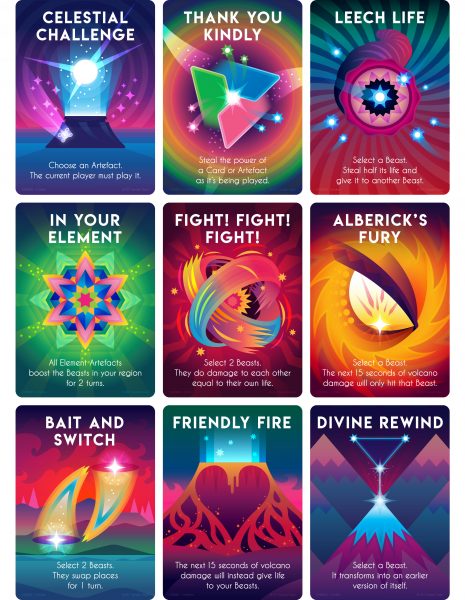 Development Work:
Behind these beautiful cards and screenshots is a lot of development work. A lot. Thanks to Bryan, George and F:
Almost all of the cards are working in-app. So anytime a card is scanned, its effect will happen in the game – whether it's destroying another beast, forcing someone to play an artefact of your choice, or secretly booby-trapping an unplayed artefact…
Player turns work smoothly. This doesn't sound like a big deal, but because card-play is so flexible, being able to run through turns with interjections is an art in itself! And it's an art we have now mastered.
New beasts like Flamingo, Anglerfish, Chameleon and Hotbelly are working like a dream in the game. This also means there are now way more weird and wonderful beasts to discover in the game!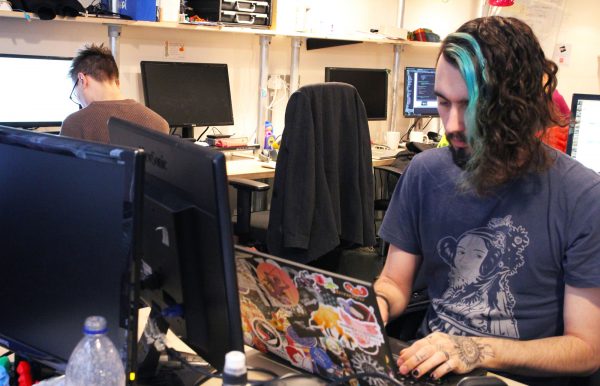 There's a lot more in the works as well (Tutorial designs! Sound design collaborations! Narrative frameworks!), so if you want to keep up to date on it all, make sure to follow us on Facebook or Twitter.
Getting Further Involved:
If you like what you've seen here and want to get involved with Battles, we do playtests every Wednesday! If you are kicking about in London and love playing games (and free pizza and drinks!), then sign up to play Battles with us here. We'd love to get as many different people in front of the game as possible.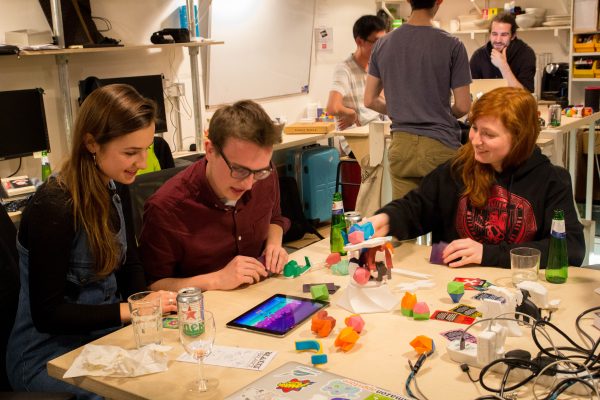 Getting your hands on Battles:
If you like what you've seen here but missed the chance to back us on Kickstarter, don't worry – you can still get Battles in the near future! Preorder Battles now, and you'll get it before it's out in retail.